Rezzonico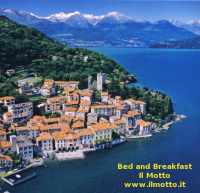 Da Cremia, lungo l'antica via Regina, si raggiunge il bel borgo di Rezzonico con una bella passeggiata (meno di un'ora) tra i boschi. E' possibile fare un percorso circolare, ritornando sfruttando la vecchia strada, ormai in disuso grazie alla galleria. La strada non e' delle migliori (e' abbandonata a se' stessa), ma la vista che si gode da li', verso Colico, è impagabile. In Rezzonico, da non perdere il porticciolo con la piazzetta, il castello e il castellaccio, raggiungibile da dietro l'oratorio dove riprende la via regina che supera la galleria verso Santa Maria. Dietro un muro, dove si potrebbe pensare di incontrare i Bravi dei Promessi Sposi, c'e' uno spazio attrezzato con tavolini da cui si gode la vista del lago verso Bellagio, Varenna. Le Grigne salutano.
Google Maps ci aiuta con una mappa anche se ci fa percorrere la statale e non i sentieri che si trovano rispettivamente a ovest dell'itinerario proposto per l'Antica Via Regina e a Est per la vecchia strada.
From Cremia, walking along the Antica Via Regina, you can reach the beautiful village of Rezzonico. No more than an hour walk for you to reach the village. If you want, you can come back via the old street not used anymore since, replaced by the tunnel. This street is not well kept but there is a wonderful view in direction North. In Rezzonico you have to see the small harbour, the castel and the "Castellaccio", an ancient tower. To reach it, you have to reach again the Antica Via Regina, just beyond the play ground. Walking along this path brings you back in the Promessi Sposi by Alessandro Manzoni. There you can find a picnic area with a "Window" on the lake in direction of Bellagio and Varenna. Also the Grigne are looking at you.
Google Maps can help with a map but keep in mind that the suggested way is along the SS340, while the paths are Western (the Antica via Regina) or Eastern (the old street along the new tunnel) to the SS340 .
Vista impagabile

Il Borgo di Rezzonico dall'alto

Rezzonico

(30874 bytes)
---
Agosto 2005

Uno scorcio del Castello

A quick view of the Castle

(22903 bytes)
---
Agosto 2005

Uno scorcio del castello

A quick view of the Castle

(23472 bytes)
---
Agosto 2005

La fontana sull'angolo verso la Foppa

The fountain on the corner on the small path for The Foppa

(23093 bytes)
---